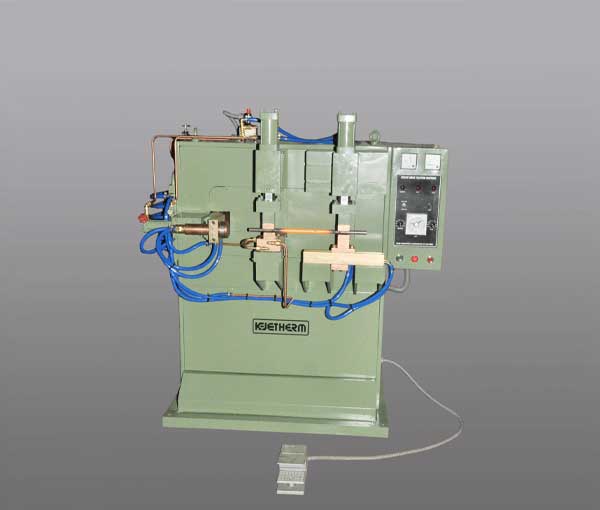 Keje Thermoweld Equipments Pvt. Ltd. is the leading Electrical Resistance Heating Machine manufacturers, suppliers & exporters in Ahmedabad. Electrical resistance heating machines are devices that use the resistance of an electrical conductor to generate heat.
Our electrical resistance heating machine manufacturers perform heating process that involves passing an electrical current through a material, which leads to the conversion of electrical energy into heat. Our machines are commonly used in various industrial applications such as melting, forging, brazing, and sintering.
Reliable Properties
Our electrical resistance heating machine are highly efficient in converting electrical energy into heat.
Our machine can heat materials to high temperatures quickly and precisely.
It offers excellent temperature control, allowing users to achieve the required temperature with minimal variations.
These are easy to install, operate, and maintain.
Uses Of electrical resistance heating machine
Rods, Pipes
Fork, Auto Components
Copper Shunts, Copper Strips
Copper Brazing
Tenon Riverting
Anti Roller Bar
Shafts
U Bolt Round,U Bolt Half Round, U Bolt Square
Pendrol Clip
Rings
Product Specifications
| | |
| --- | --- |
| Product Name | Electrical resistance heating machine |
| Brand | Keje Thermoweld |
| Frequency (in Hz) | 50 – 60 Hz |
| Material Type | Mild Steel |
| Power Voltage (in V) | 220 - 440 V |
| Usage | Industrial |
Benefits
Energy Efficiency: Due to the great efficiency with which our electrical resistance heating systems transform electrical energy into heat, there is less energy wasted and the cost of operation is reduced.
Quick Heating: These devices can heat materials to high temperatures in a matter of seconds, speeding up processes and increasing output.
Precise Temperature Control: It provides great temperature control, making it possible to regulate temperatures precisely, which is necessary for many industrial processes.
Safe Operation: Our electrical resistance heating devices have safety features built in to help prevent mishaps and ensure that they are secure to use.
Enhanced Reliability: These machines are made to be durable, lowering the possibility of failure and lowering maintenance expenses.