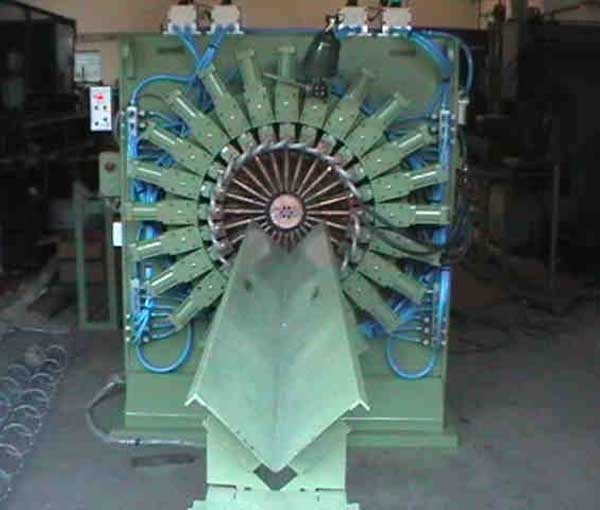 WeKeje Thermoweld Equipments Pvt. Ltd. are the leading Resistance Welding Special purpose machines (SPM) manufacturers, suppliers & exporters from Pune, Maharashtra, India. Resistance welding SPMs (Special Purpose Machines) are automated machines designed for performing resistance welding operations on a variety of materials.
Our welding technique uses electrical resistance to generate heat and pressure for joining two or more materials. This can be an excellent choice for high-precision, cost-effective, and reliable welding operations.
Exclusive Properties
High precision: Our Resistance welding SPMs offer high precision welding operations that ensure accuracy and consistency in the welding process.
Programmable control: These machines have programmable control options, which allow welding parameters to be easily defined and controlled.
High productivity: These machines can perform welding operations at a much faster rate than conventional welding methods, which leads to increased productivity.
Advantages of using our Resistance Welding SPMs in Pune
Cost-effective: Our Resistance welding SPMs are less expensive compared to other welding methods, making them an affordable choice for small to medium-sized businesses.
High-quality results: These machines offer high-quality welding results with minimal errors or defects, ensuring reliable and durable joint formation.
Safety: These machines are a safer option than other welding methods since they don't use any filler material or dangerous gases.
Environmentally friendly: Our Resistance welding SPMs are environmentally friendly, as they do not produce any fumes or harmful pollutants during the welding process.
Product Specifications
| | |
| --- | --- |
| Product Name | Resistance Welding SPMs |
| Brand | Keje Thermoweld |
| Frequency (in Hz) | 50 – 60 Hz |
| Automation Grade | Semi-Automatic |
| Power Voltage (in V) | 415 V |
| Usage | Industrial |
We are Resistance Welding SPMs manufacturers, suppliers, exporters for:
Sheets, Filters
Automative Fixture
Cable Trays
Automotive, Automobile
Copper Sheets
Electronic Components
Fuel Tank, Kitchen Accessories
Wire Products, Cage, Wire Mesh
Nut, Stud, Flanges,Bush
Wire Products, Wire Mesh, Gas Springs