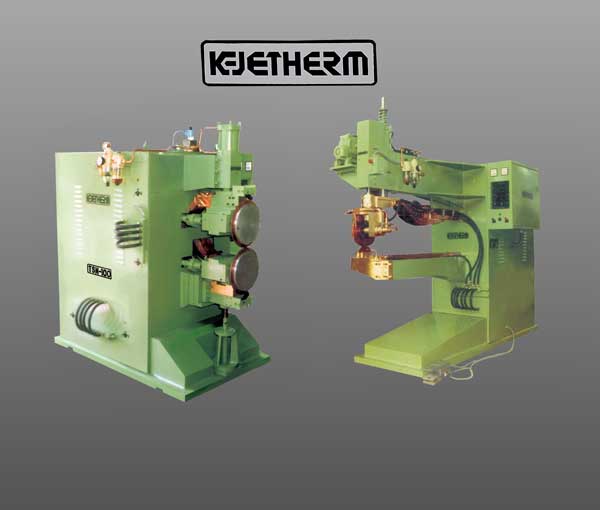 Leading manufacturers, suppliers, and exporters of seam welding machine/equipment in Chennai. We seam welding machine manufacturers in Chennai are experts at offering cutting-edge solutions for all of your welding needs thanks to our many years of experience in the field. Our seam welding machines are made with precision, sturdiness, and efficiency in mind, making them perfect for a variety of uses.
In order to generate a continuous, leak-proof weld over the length of a seam or junction between two overlapping metal surfaces, a seam welding machine is a type of welding apparatus. In manufacturing processes, our equipment is frequently used to join sheet metal, pipelines, and other components.
Whether you are in the automotive, aerospace, or manufacturing sector, our seam welding machines are built to meet your specific requirements. With a commitment to innovation and customer satisfaction, Keje Thermoweld is the name you can rely on for top-notch welding equipment. Explore our range of seam welding machines and experience the difference in performance and reliability.
Reliable Properties
Continuous Welding: Seam welding machines can produce long, continuous welds without the need for frequent starts and stops.
Precise Control: They offer precise control over welding parameters such as welding speed, current, and electrode pressure to ensure consistent and high-quality welds.
Seam Tracking: Many modern machines are equipped with seam tracking systems that follow the seam's contour, even if it's not perfectly straight.
Automatic Operation: Some models are fully automated, reducing the need for manual labor and increasing production efficiency.
Various Materials: Our Seam welding machines can be used with a wide range of materials, including stainless steel, carbon steel, aluminum, and more.
Multiple Electrode Configurations: Depending on the application, they can use single or multiple electrodes, allowing for customization based on the weld's requirements.
Suitable for High-Volume Production: Seam welding machines are ideal for industries requiring high-volume production, such as automotive manufacturing, aerospace, and appliance production.
Seam Types: They can produce different types of seams, including overlap seams and butt seams, depending on the welding head design.
Weld Quality Monitoring: Some advanced machines incorporate real-time monitoring and quality control systems to detect defects and ensure consistent weld quality.
These features make seam welding machines valuable tools in various industries where reliable, leak-tight welds are essential for product integrity and performance.
FAQs
1. What is seam welding?
Seam welding is a welding process that joins overlapping metal sheets by creating a continuous, leak-proof seam using a rotating wheel or electrode.
2. What materials can be seam-welded?
Seam welding is commonly used on materials like steel, stainless steel, and aluminum, making it suitable for various industries.
3. What are the advantages of seam welding?
Our Seam welding machine offers high-speed production, consistent and leak-free welds, and minimal distortion in the workpiece.
4. Where is seam welding used?
Our Seam welding machines are used in industries like automotive manufacturing, aerospace, and container production for sealing seams in various applications, such as fuel tanks and exhaust systems.