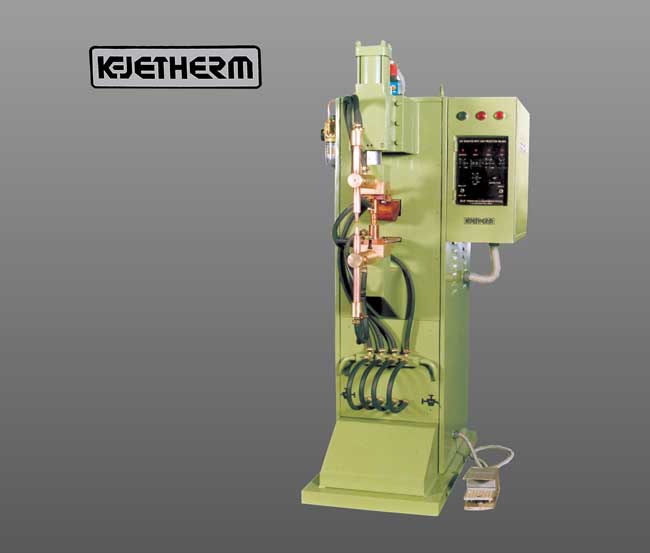 We are well-known manufacturers, suppliers, and exporters of spot welding machine/equipment in Chennai. We are experts in the design, engineering, and production of a variety of heating and welding goods.
A spot welding machine is a type of resistance welding that is used to join two metal sheets together. The process involves opening the cooling water, cleaning the surface of the weldment, and sending it between the upper and lower electrodes. An electric current is then run through the area to melt the sheets and form a solder joint. The strength of a spot weld depends on several factors such as electrode diameter, work thickness, electrode pressure, welding current, and current flow time.
Our machines are designed to produce high-quality welds based on continuous production. We have a strong team that believes in themselves and are dedicated to supply the product at cost effective prices.
Features
Our spot welding machine uses upper and lower cylindrical electrodes to apply pressure, ensuring tight contact between the surfaces of the workpieces.
It is usually water-cooled because for a fraction of a second, very high heat is generated.
It consists of a transformer to produce high current at low voltage and the electrodes are connected to the ends of the secondary winding for leading the current to the work.
Our welding machine can weld thin plate structures and reinforcing bars.
It is capable of welding up to 1/8" mild steel with its durable welding tips.
Applications & Uses
Joining thin sheets of stainless steel or aluminum.
Repairing dents or other damage to thicker materials.
High volume production applications and for fabricating all types of sheet metal structures where high mechanical strength is required.
Manufacturing electronics, fusing of nails, automobile industry, dental treatment, and manufacture of batteries.
Our Spot welding machines use two electrodes that deliver an electric current through the two pieces of metal to be joined. The process is highly efficient and can be used for small precision welding, aviation, aerospace, energy, electronics, automotive, light industry, and other fields.
FAQs
Q: What is spot welding?
Spot welding is a process that joins metal sheets by applying heat and pressure at specific points, creating localized welds.
Q: What materials can be spot-welded?
Spot welding is primarily used for welding thin sheets of metals like steel, aluminum, and copper.
Q: What are the advantages of spot welding?
Our spot welding machine offers speed, efficiency, and strong welds, making it ideal for mass production in industries like automotive and electronics.
Q: How does a spot welding machine work?
A spot welding machine passes electrical current through the metal sheets, generating heat at the contact points, which melt and fuse together upon cooling.