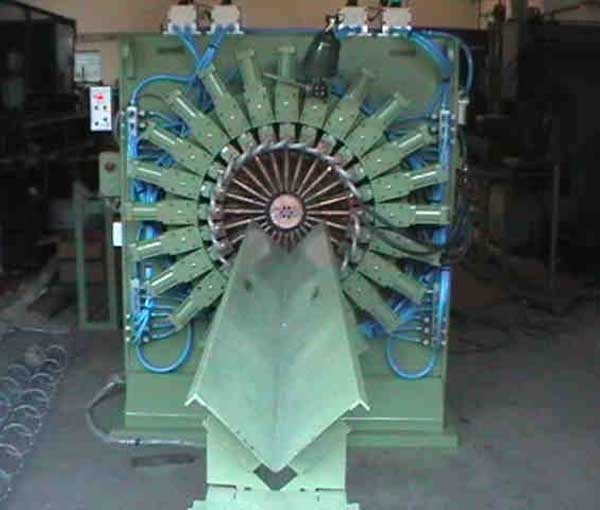 Keje Thermoweld Equipments is the leading Resistance Welding Special Purpose Machines (SPM) manufacturers, suppliers, exporters in Ahmedabad. Resistance welding SPMs (Special Purpose Machines) are automated machines designed for performing resistance welding operations on a variety of materials.
Our welding technique uses electrical resistance to generate heat and pressure for joining two or more materials. This can be an excellent choice for high-precision, cost-effective, and reliable welding operations.
Exclusive Properties
High precision: Our Resistance welding SPMs offer high precision welding operations that ensure accuracy and consistency in the welding process.
Programmable control: These machines have programmable control options, which allow welding parameters to be easily defined and controlled.
High productivity: These machines can perform welding operations at a much faster rate than conventional welding methods, which leads to increased productivity.
Advantages of using our Resistance Welding SPMs
Cost-effective: Our Resistance welding SPMs are less expensive compared to other welding methods, making them an affordable choice for small to medium-sized businesses.
High-quality results: These machines offer high-quality welding results with minimal errors or defects, ensuring reliable and durable joint formation.
Safety: These machines are a safer option than other welding methods since they don't use any filler material or dangerous gases.
Environmentally friendly: Our Resistance welding SPMs are environmentally friendly, as they do not produce any fumes or harmful pollutants during the welding process.
We are Resistance Welding SPMs manufacturers for
Sheets, Filters
Wire Products, Cage, Wire Mesh
Nut, Stud, Flanges,Bush
Automative Fixture
Cable Trays
Automotive, Automobile
Copper Sheets
Electronic Components
Fuel Tank, Kitchen Accessories
Wire Products, Wire Mesh, Gas Springs
Product Specifications
| | |
| --- | --- |
| Product Name | Resistance Welding SPMs |
| Brand | Keje Thermoweld |
| Frequency (in Hz) | 50 – 60 Hz |
| Automation Grade | Semi-Automatic |
| Power Voltage (in V) | 415 V |
| Usage | Industrial |
Advantages
Lower production costs – Our Spot cum projection welding machine requires less manpower and has low maintenance costs.
High efficiency - It quickly produces welded pieces, leading to high productivity.
Improved quality - The machine's precise welding results lead to consistent and reliable quality.
Greater flexibility - It can switch between spot welding and projection welding with ease.
Enhanced safety - Our machine has built-in safety features like current and voltage sensing that prevents accidents, thereby enhancing operator safety.