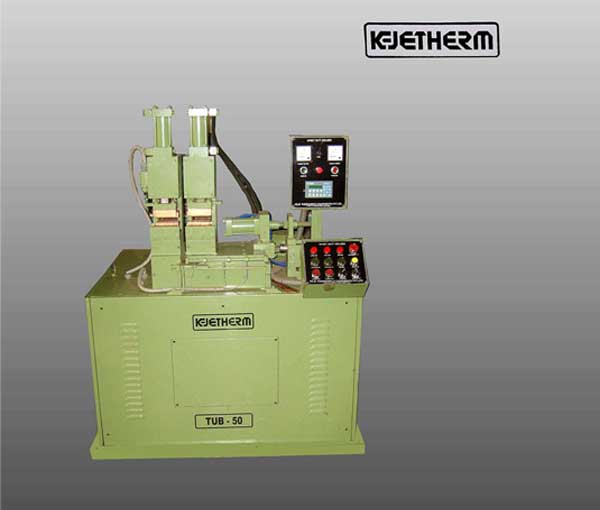 Keje Thermoweld Equipments Pvt. Ltd. is the leading Electrical Upsetter Machine manufacturers, suppliers & exporters from Pune, Maharashtra, India. Our Electrical Upsetter Machine in Pune uses the electrical energy to forge or deform metal work pieces into desired shapes. It is also known as an electric forging machine.
Our electrical upsetter machine is widely used in the manufacturing of automotive, aerospace, construction, and other industries.
Properties
Our Electrical Upsetter Machine has a vertical arrangement of hydraulic or mechanical force exerted on the workpieces.
It is equipped with a high-power motor to apply the required force for forging.
The machine has a high level of precision and can achieve tight tolerances on forged parts.
It can handle various types of materials, including aluminum, steel, brass, and others.
Advantages
Our Electrical Upsetter Machine offers faster production rates and higher productivity compared to traditional forging methods.
It requires less manpower, leading to cost savings for the manufacturer.
It produces stronger and more accurate forgings due to its precise and repeatable process.
Our machine can perform a range of forging operations, such as upsetting, coining, trimming, and extruding.
It consumes less power than other forging methods, making it more energy-efficient.
It has a longer lifespan and requires less maintenance than other forging machines.
Product Specifications
| | |
| --- | --- |
| Product Name | Electrical Upsetter Machine |
| Brand | Keje Thermoweld |
| Ambient Temperature Range | 0 – 55 |
| Machine Type | 3 Phase AC |
| Power Voltage (in V) | 380 - 460 V |
| Usage | Industrial |
We are Metal Gathering Machine Manufacturers, Suppliers & Exporters for
Forging, Eye Bolts
Engine Valves,Shafts
Stabiliser Bars
Anti Roller Bars
Fasteners
Carriage Bolts
Bolts, Pipe
Insulator Pins
Arching Horn
Square Bolts, Shackle
Transmission Line Hardware
Transmission Line Products
Rods, Auto Components