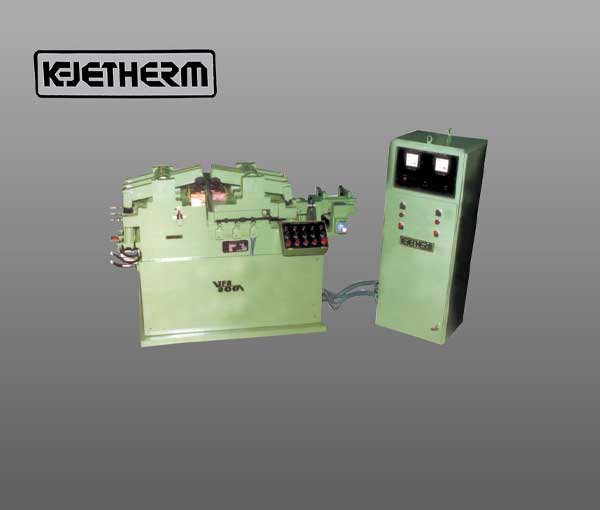 Keje Thermoweld Equipments Pvt. Ltd. is Flash Butt Welding Machine manufacturers, suppliers & exporters in Ahmedabad. Flash Butt Welding Machine is a welding machine that joins two metal pieces by heating them to the point where they melt, and then pressing the two pieces together until they solidify.
Our flash butt welding machine uses an electric arc to heat the metal, and then applies pressure to allow the molten metal to fuse together. Our flash Welding Machines are used in various industries including automotive, aerospace, railway, and construction for welding components such as rails, pipes, strips, and wire.
Properties of Flash Butt Welding Machine
High welding speed.
Accurate control of heat and pressure.
High welding efficiency.
Repeatable and consistent weld quality.
Can weld a wide range of materials and thicknesses.
Low maintenance requirements.
We are Flash Butt Welding Machine Manufacturers for
TMT Saliya
Torque Steel
Roda, Sheets
Chain Links
Pipes, Seamless
Copper Rods
Starter Rings, Axle Ring
Rings, Ring Gear
Hydraulic Type
Alloy Steel, Mild Steel
Stainless Steel
Rims, Ring Joint Gaskets
High Speed Tools
Product Specifications
| | |
| --- | --- |
| Product Name | Flash Butt Welding machine |
| Brand | Keje Thermoweld |
| Working grade | Automatic |
| Welding Type | Butt Welding |
| Country of Origin | Made In India |
| Usage | Industrial |
Advantages
High productivity and efficiency.
Repeatable, consistent, and precise welds.
Strong and reliable welds with high tensile strength.
Low distortion and minimal processing required.
No gas or filler materials required, reducing overall welding costs.
Environmentally friendly as it generates very little waste and has low energy consumption.